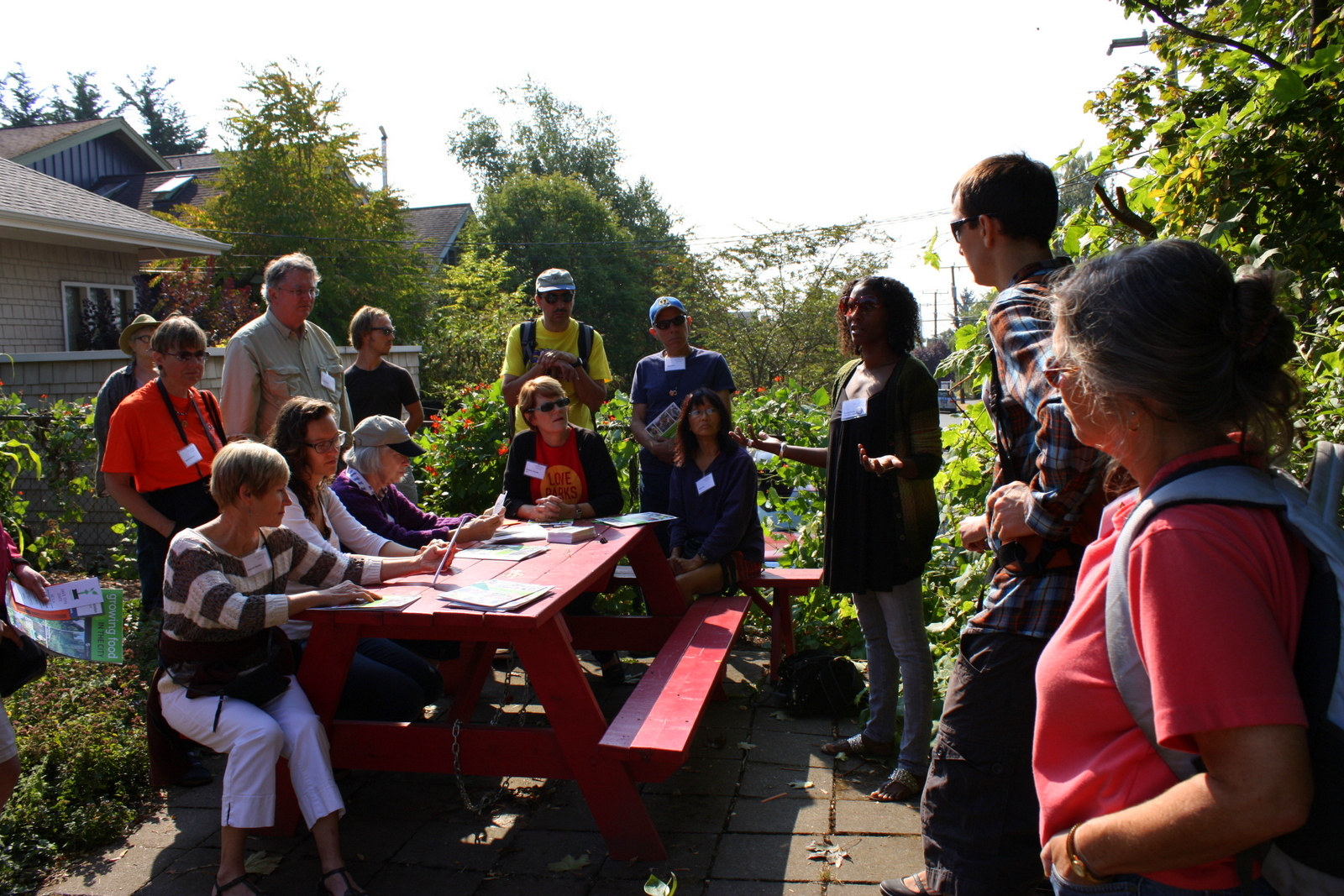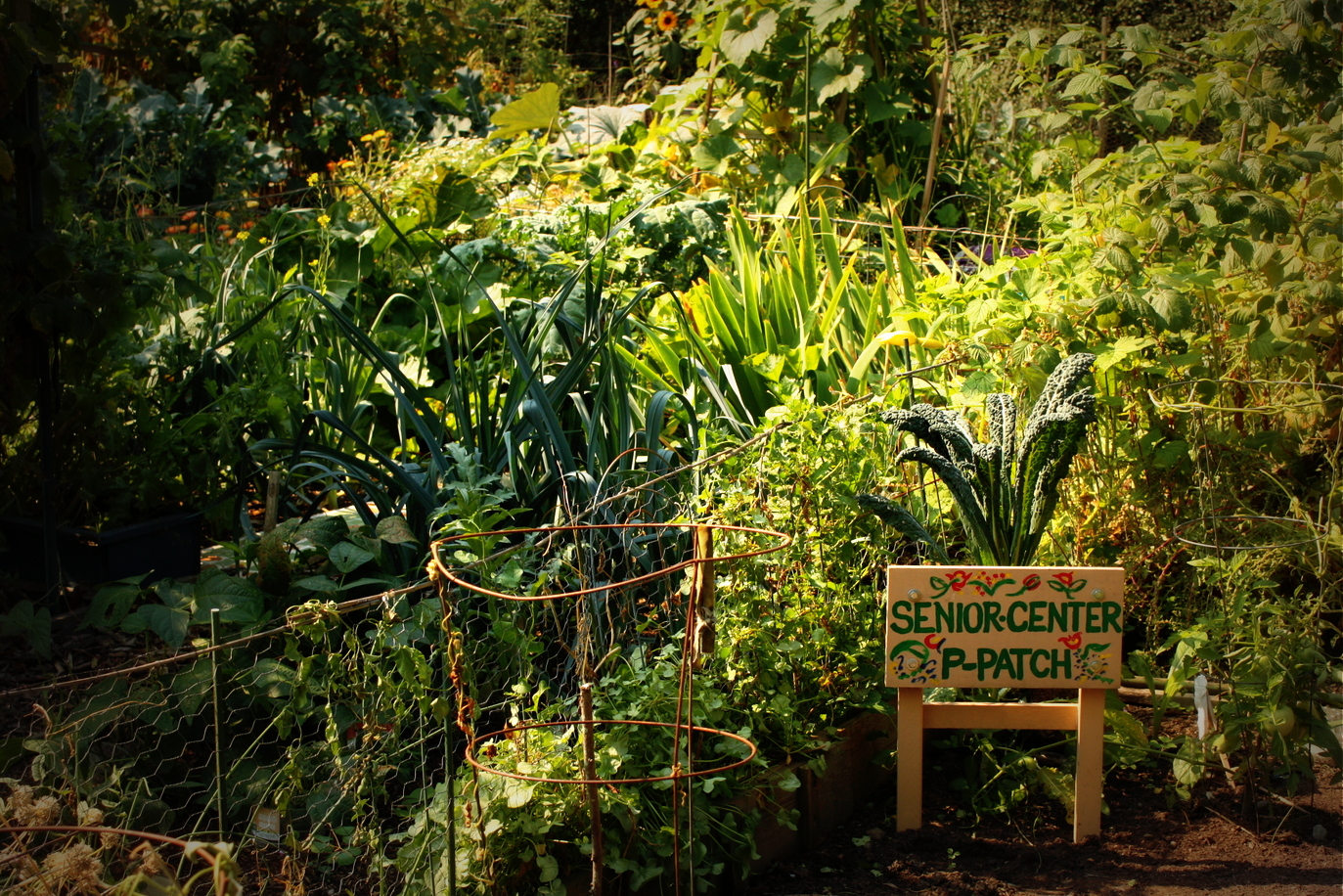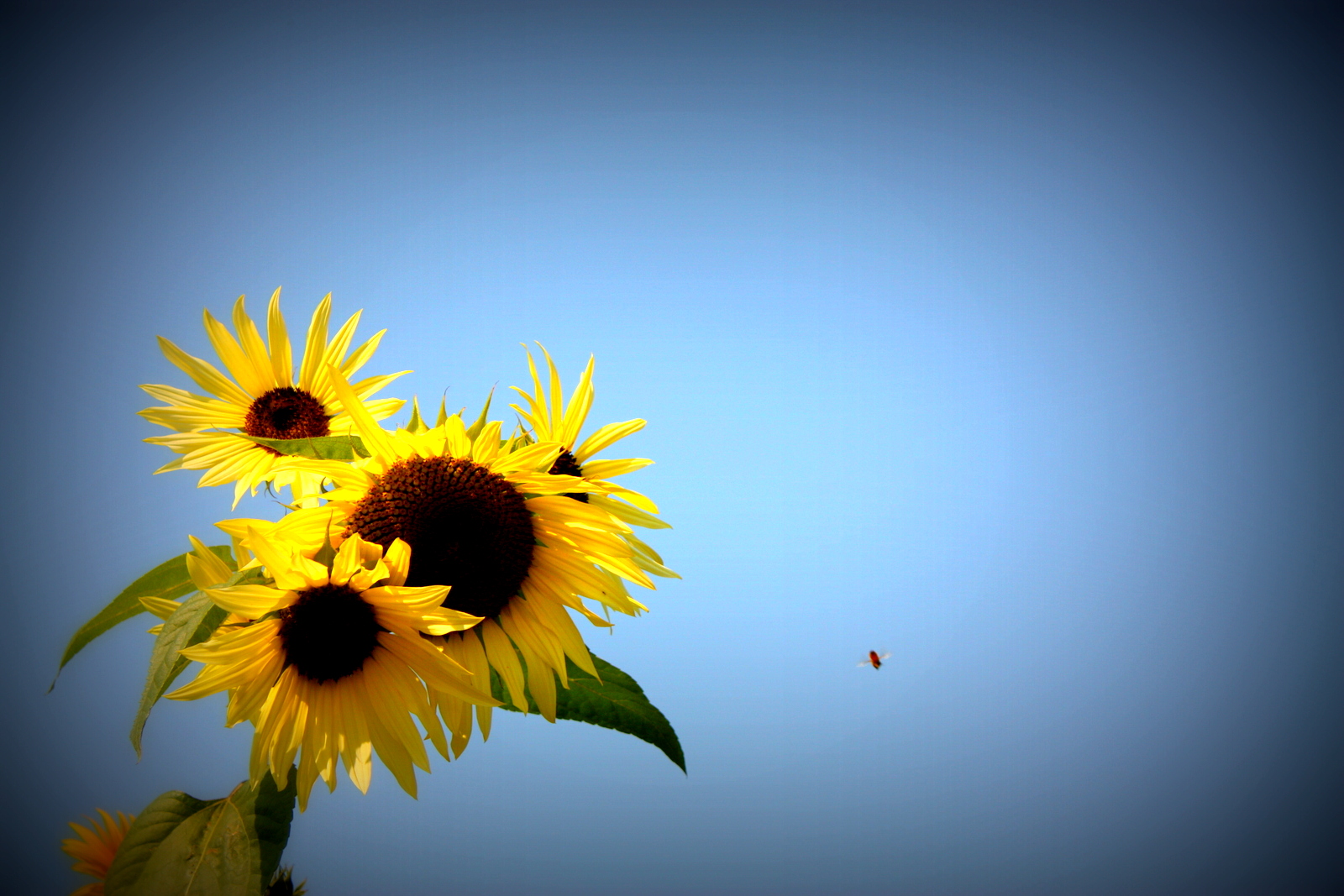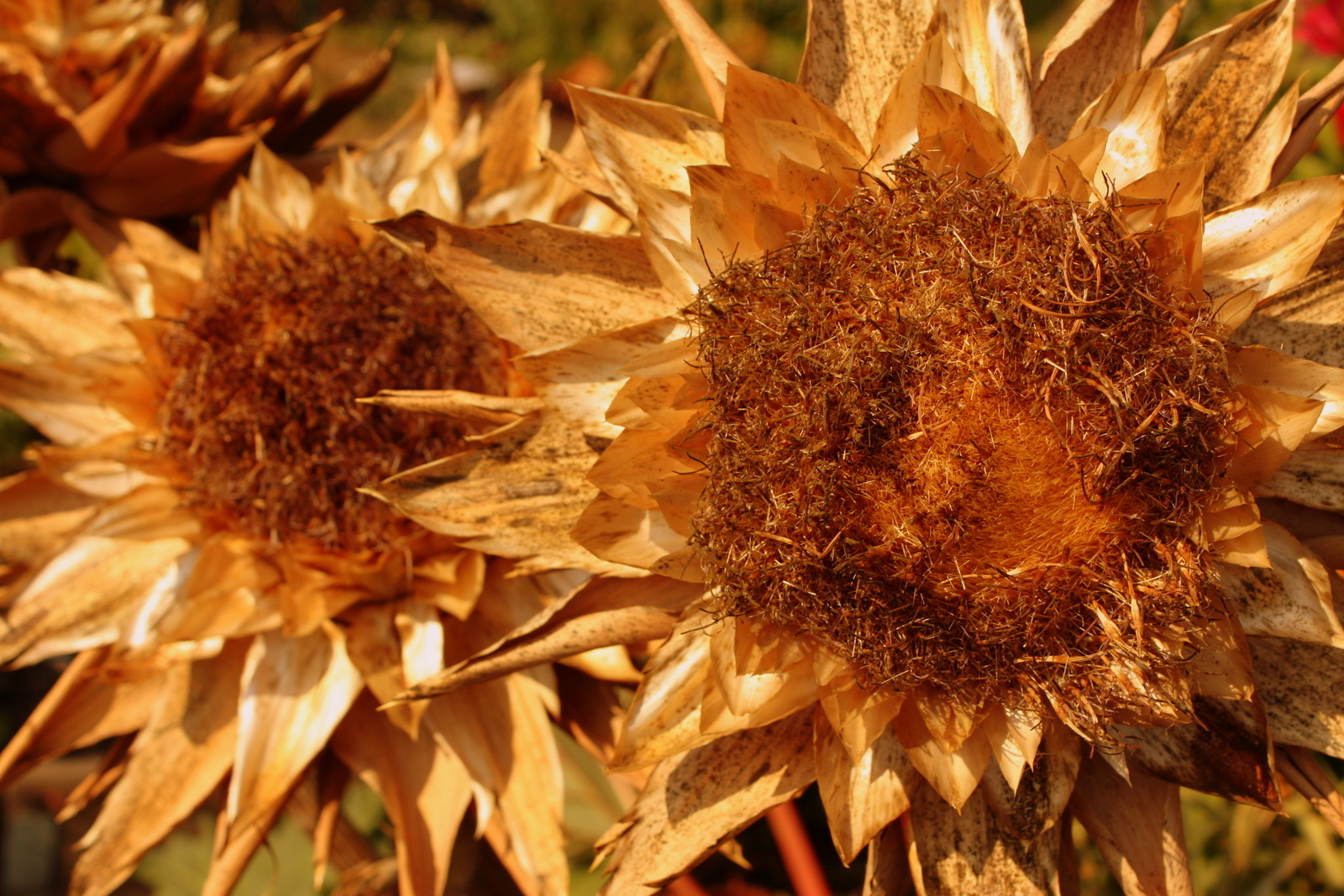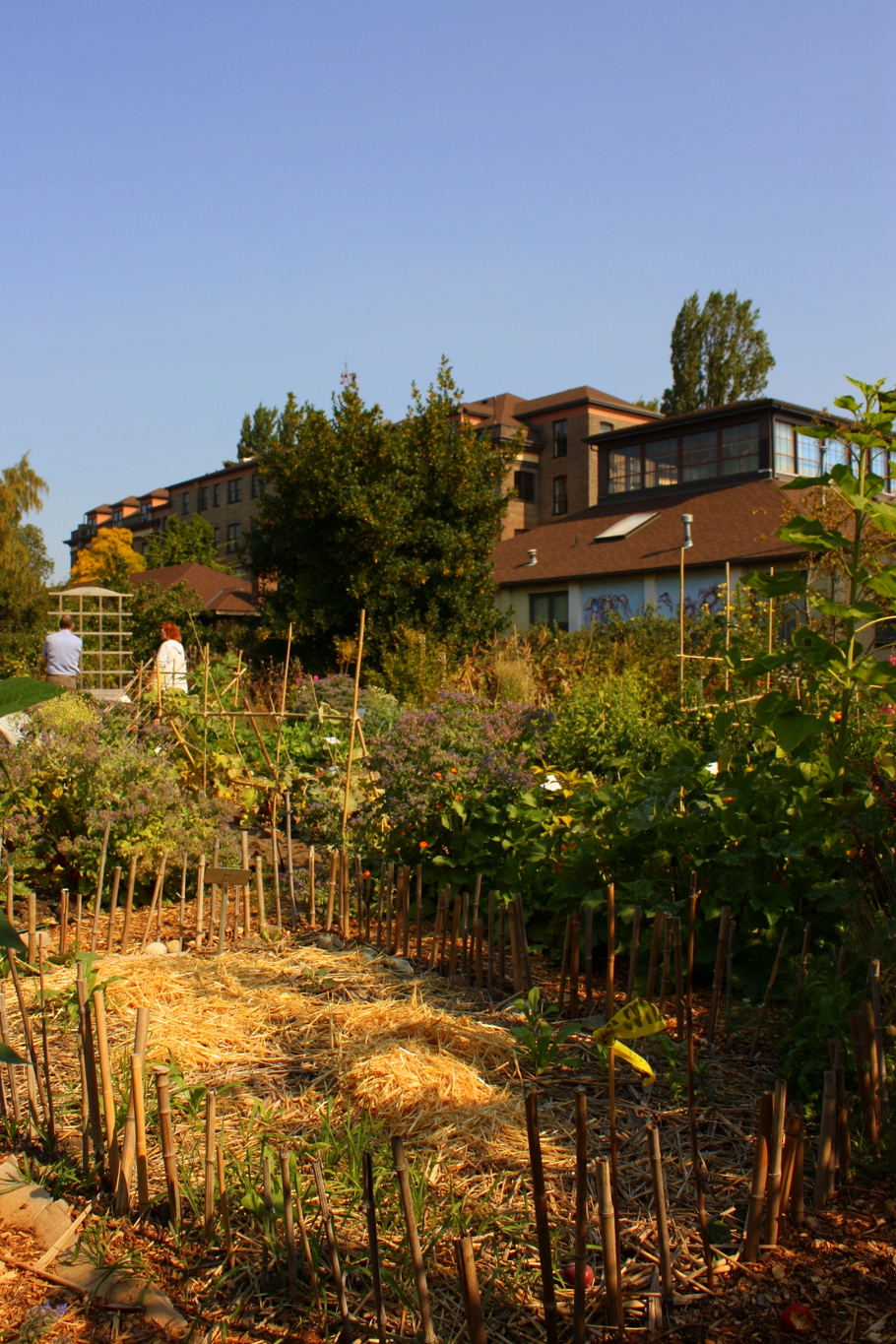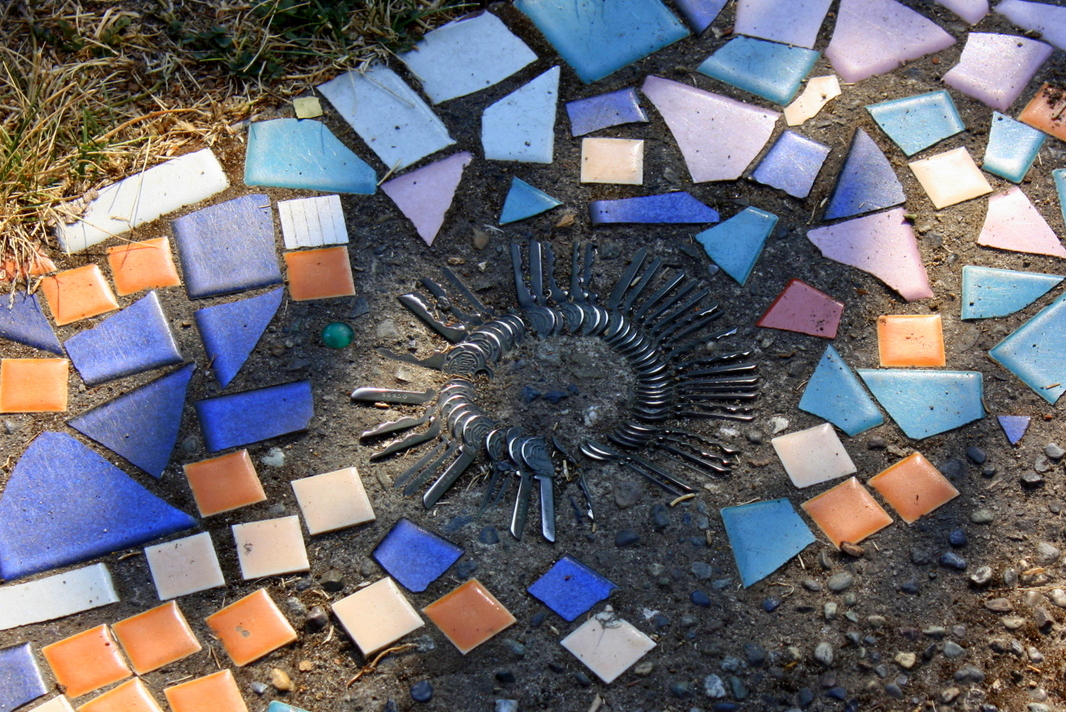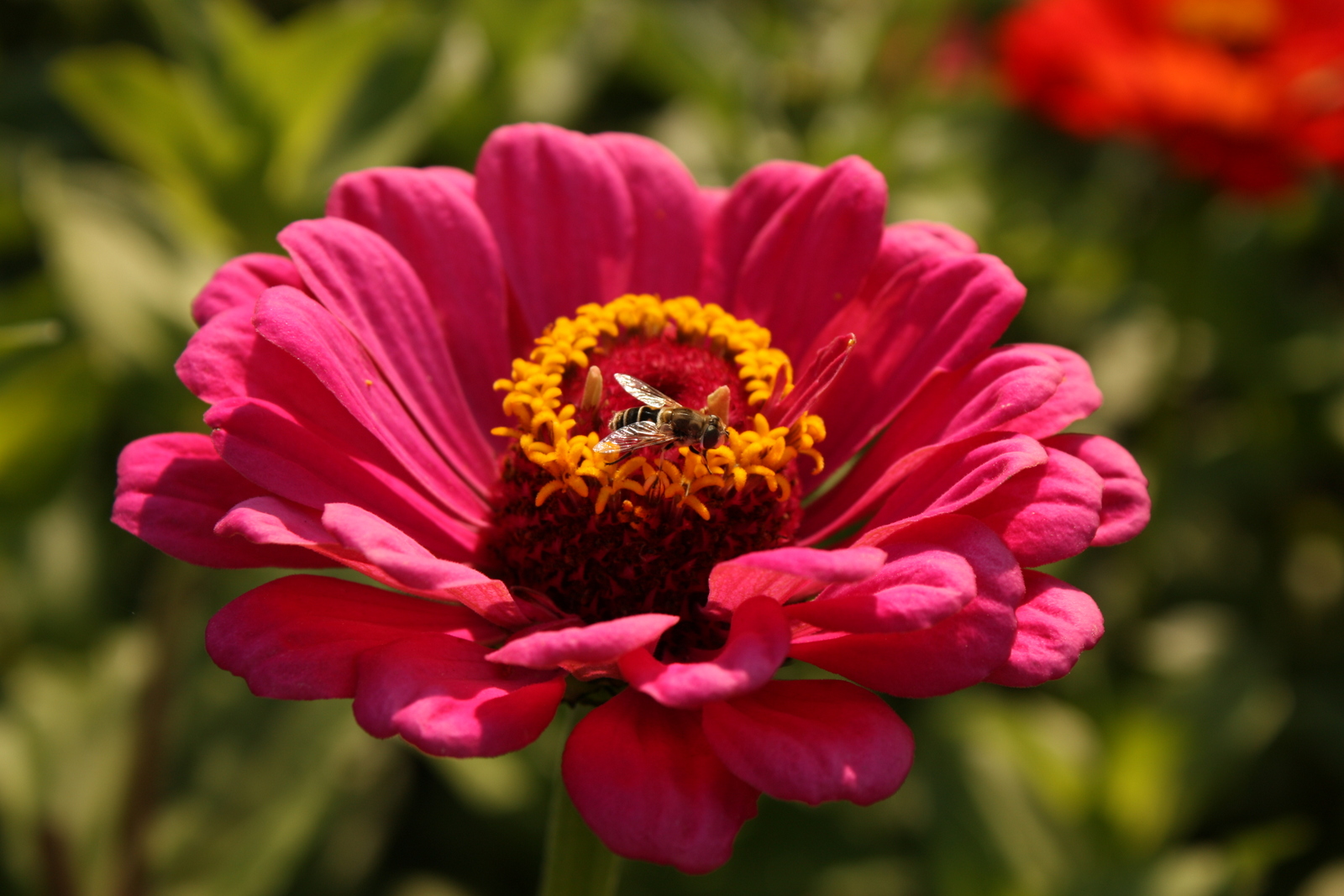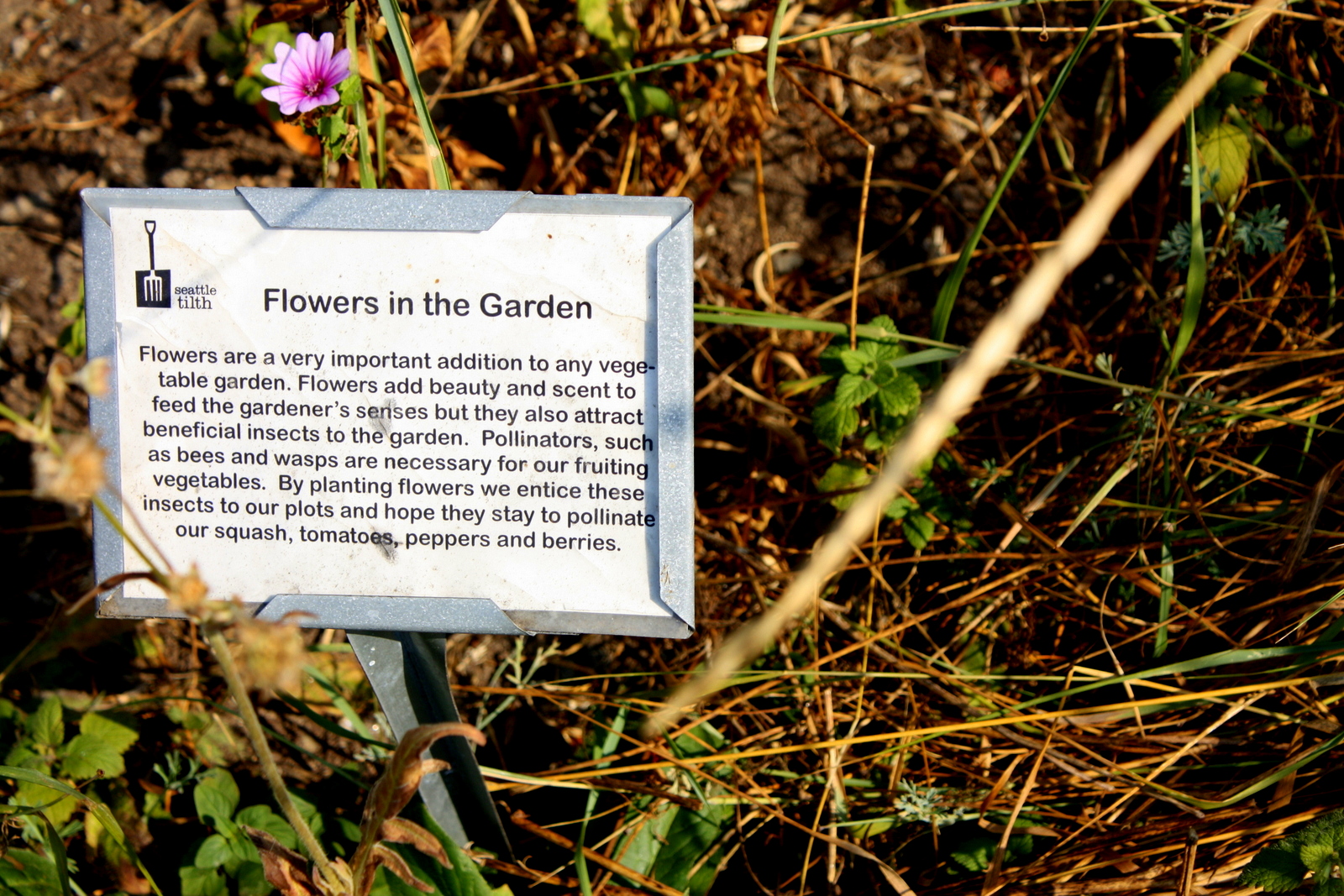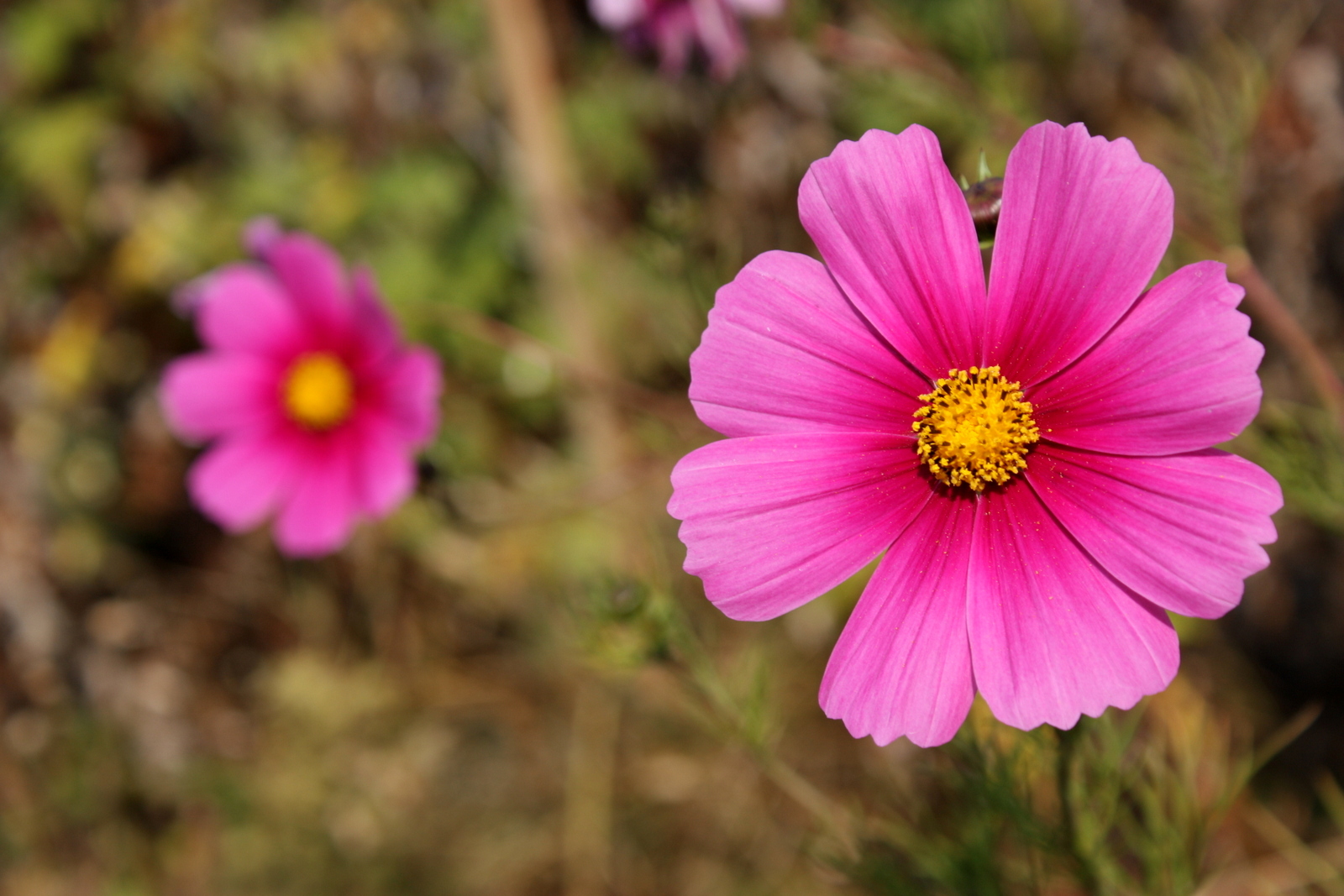 Urban Edibles Tour
September 20, 2012: "Urban Edibles" tour put on by Seattle Parks Foundation. The tour was a joint production, showcasing Seattle Parks, City Fruit, Seattle Tilth and the P-Patch program. We started out with a talk from Gail Savina, Executive Director of City Fruit.
Gail grew up in Central Washington's "Apple Capital of the World" and so couldn't stand to see fruit falling to waste from landscape trees throughout the city when she moved to Seattle. In 2008, she worked with others to form City Fruit, which works to harvest and distribute urban fruit to the needy and help tree owners keep their trees healthy.
Most apple trees in the city are, unfortunately, awfully wormy, but City Fruit collects enough of them and other fruit (plums, pears, figs, cherries, grapes) to have reached 17,000 lbs of fruit by October of 2012. That's up from 6500 lbs in 2011! Most is donated to food banks and shelters, but some is sold to help raise funds. (Tom Douglas is a customer and City Fruit's 2011 annual report features a pic of a Dahlia Workshop fig bar made with City Fruit.) City Fruit partnered with several local nurseries in 2013 to offer classes on fruit tree care. Find those events on CityFruit.org and even more gardening events at some of the venues in this recent article I wrote for Groupon. Also check out the City Fruit site for volunteer info or if you have a fruit tree from which they can harvest.
We also heard from a gentleman with Seattle City parks who is a fruit tree expert, but I took TERRIBLE notes at this event and so don't have his name (Bob?) or many details from his talk. Drat. I do have these bits I've cobbled together from my bad notes and further research:
- The Seattle Tree Fruit Society is another resource for fruit tree owners.
- The Fruit Tree Society website has a fruit ID page to help you track down the variety of apple.
- The fruit trees at Meridian Park were originally planted by the Sisters of the Good Shepherd. Per this thesis on Seattle Orchards by Audrey Lieberworth, the Sisters were a "Roman Catholic order of nuns that were devoted to the care, rehabilitation and education of girls and young women in crisis...The nuns planted and maintained an orchard at the site in order to teach the girls home economics, how to cook and grow food."
Next stop on the tour was the Good Shepherd P-Patch. The P-Patch program "is made up of community managed open spaces in Seattle neighborhoods. Gardeners, collectively and individually, use small plots of land to grow organic food, flowers, fruits and herbs." It's named for the original Seattle P-Patch, Picardo, in North Seattle. I took a tour of North Seattle P-Patches a couple years ago, you can find those pictures here.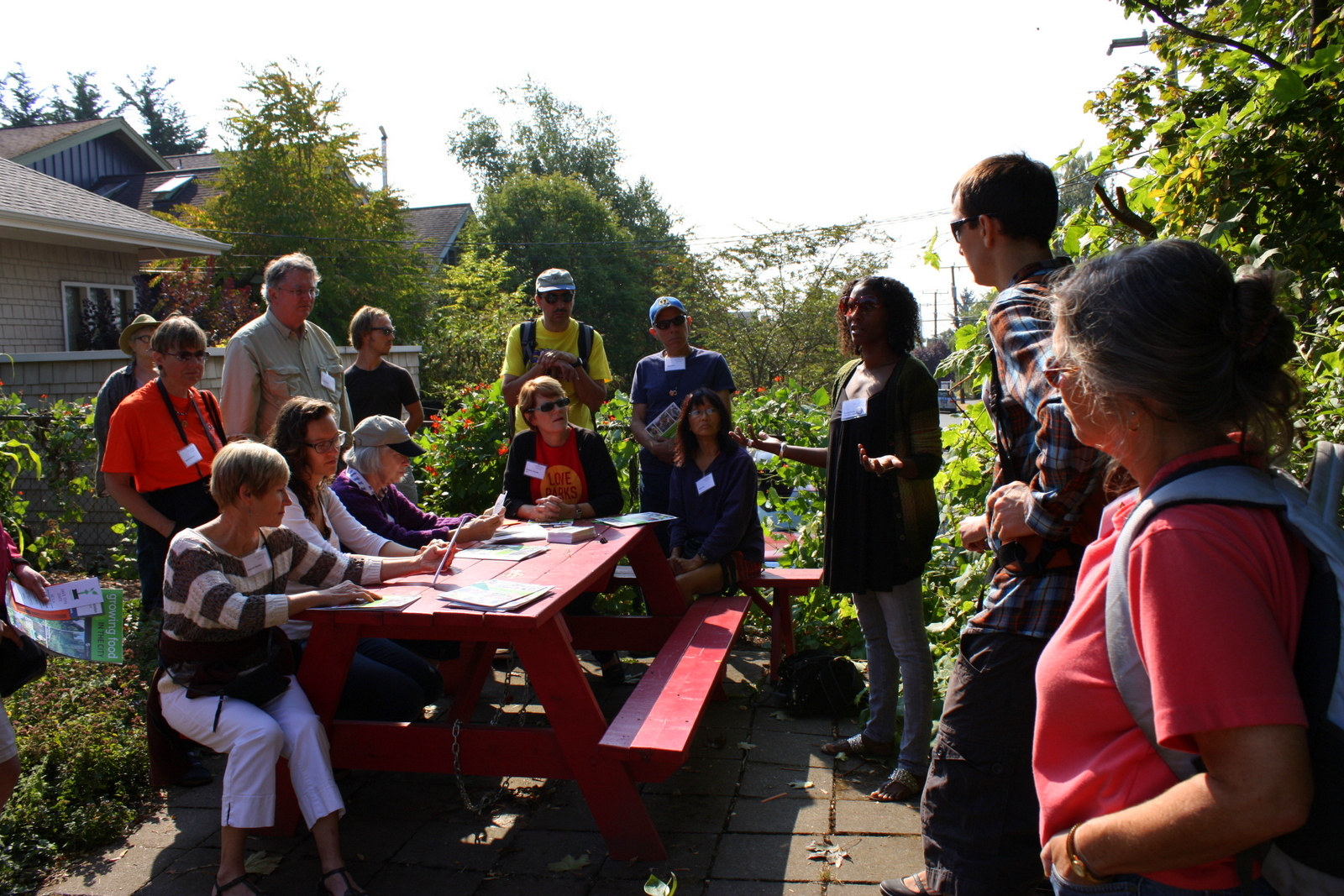 Here Kenya Fredie, P-Patch community garden coordinator, spoke with the group about participating in community gardening. Some facts from the city's P-Patch handout: 70+ gardens covering 23 acres. 20k+ lbs of produce grown and donated to food banks in 2011. 20k volunteer hours performed each year. New P-Patches are being added, but the wait can be long for some, so if you think you might have interest, sign up now!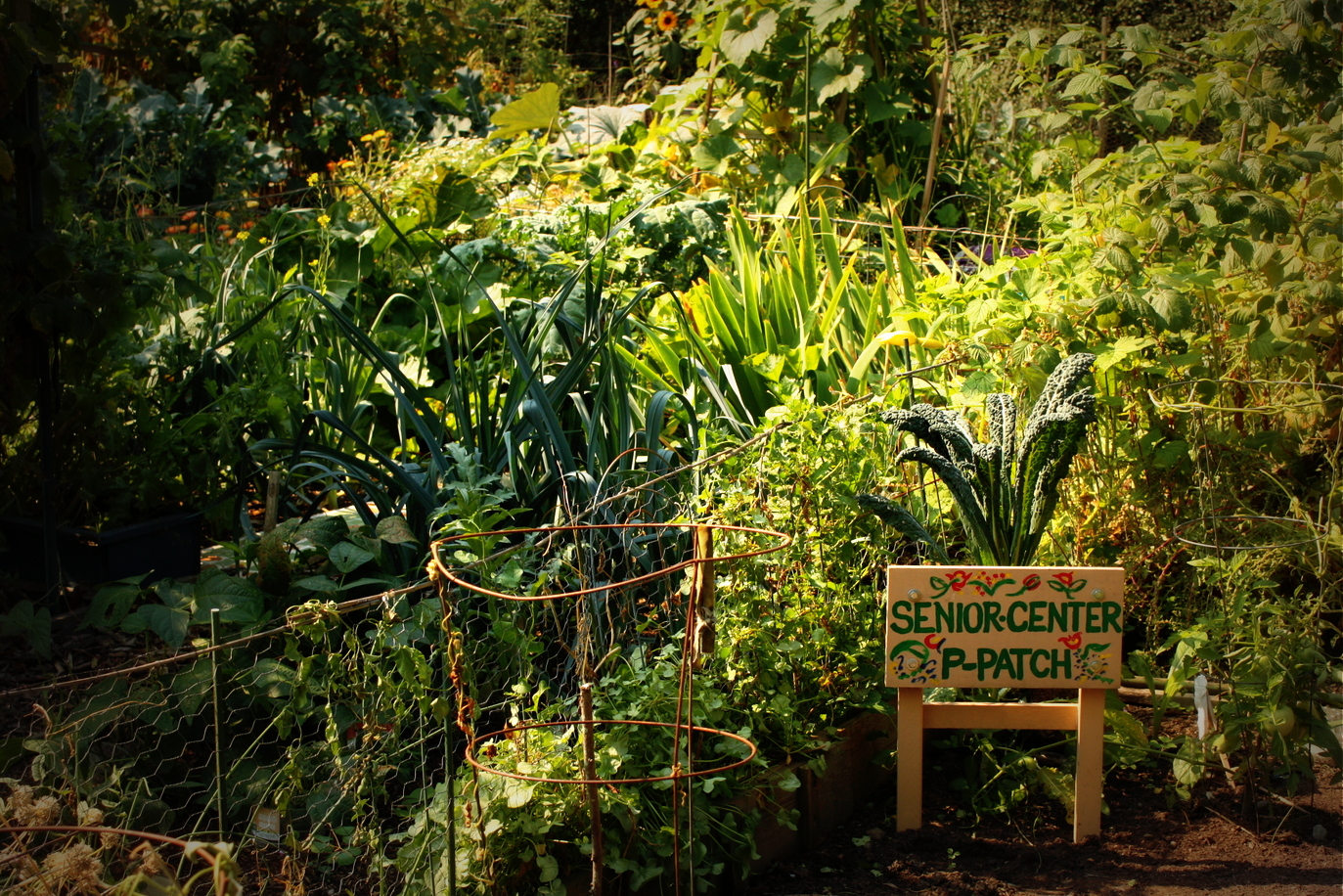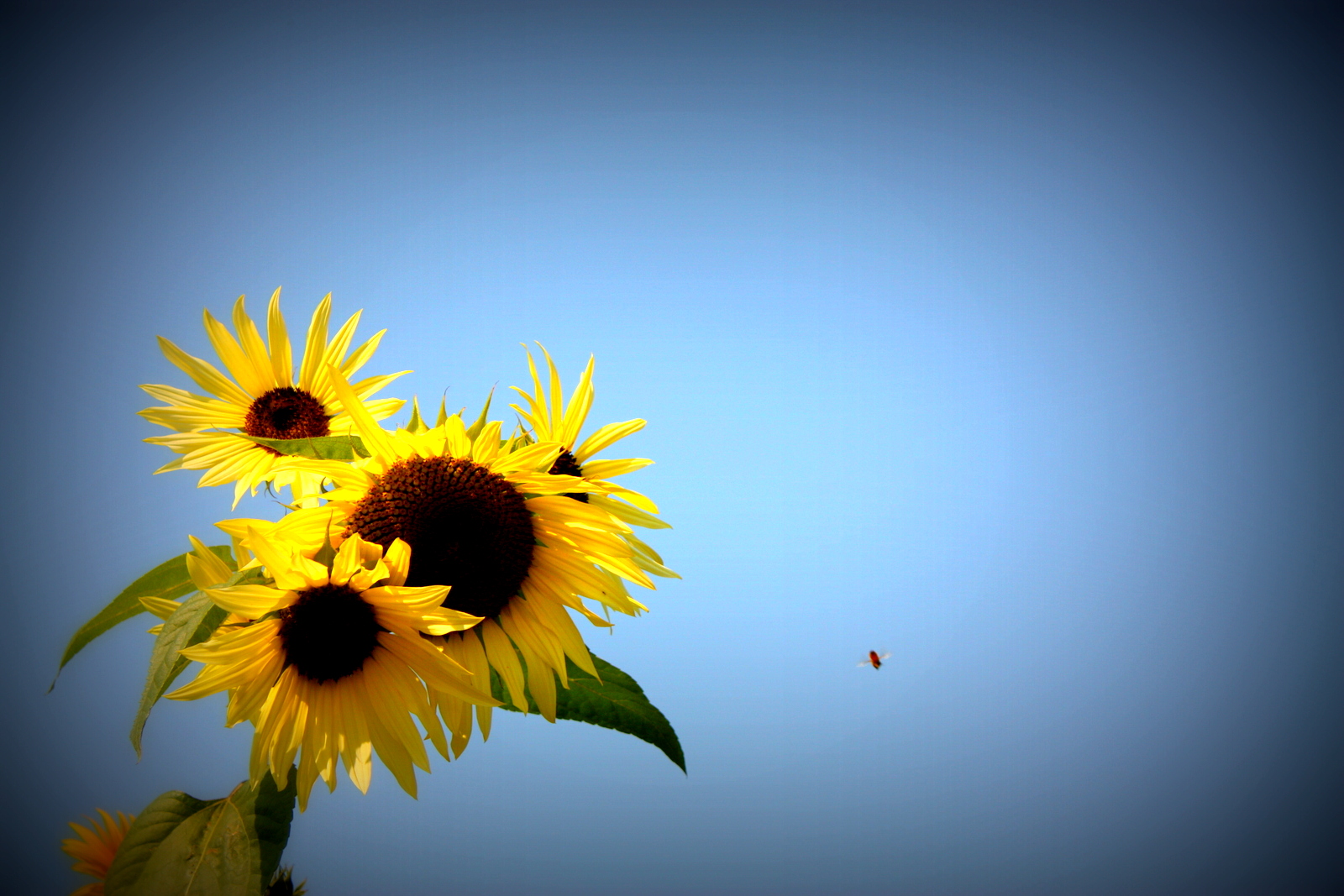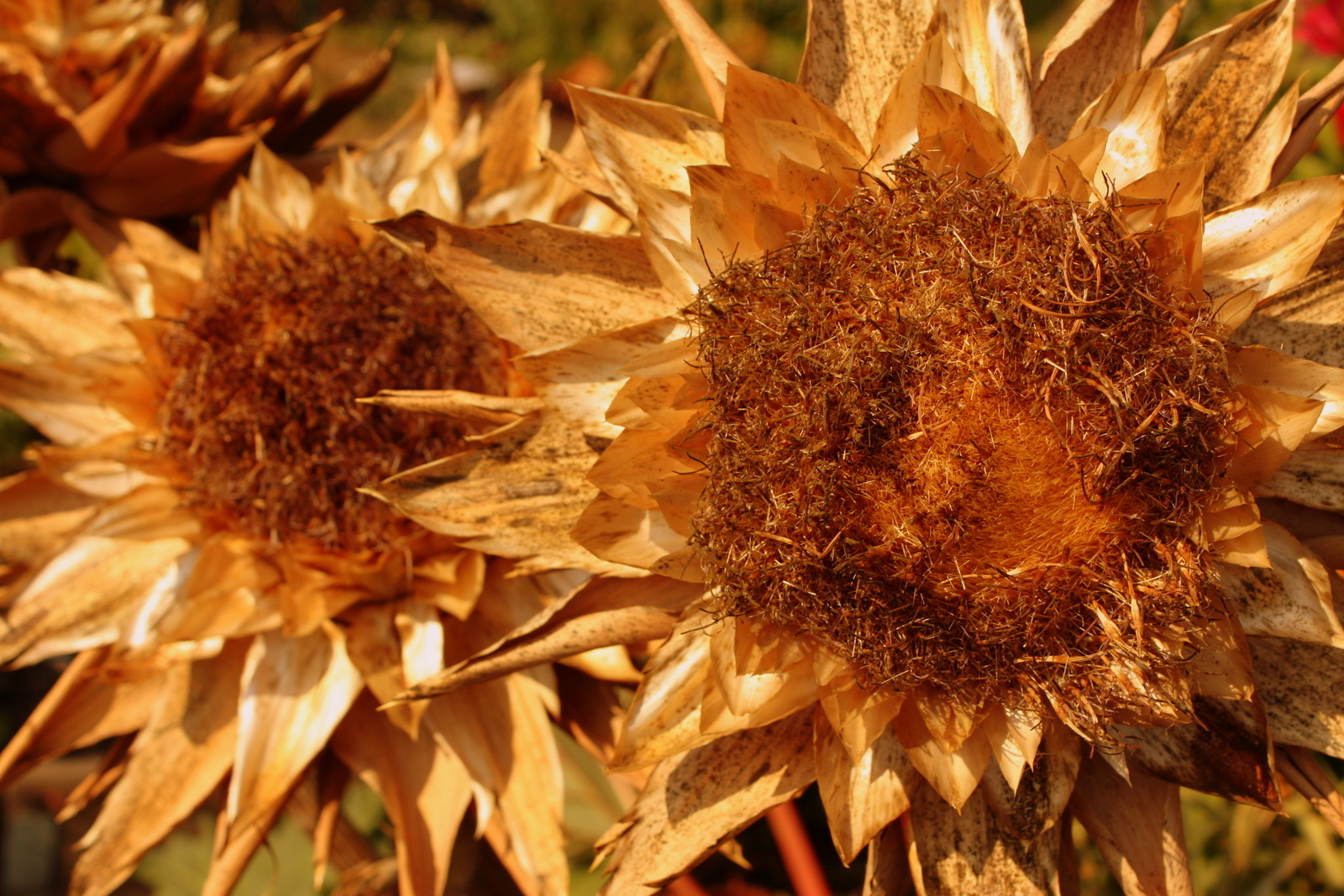 Technically, visitors are not supposed to snack.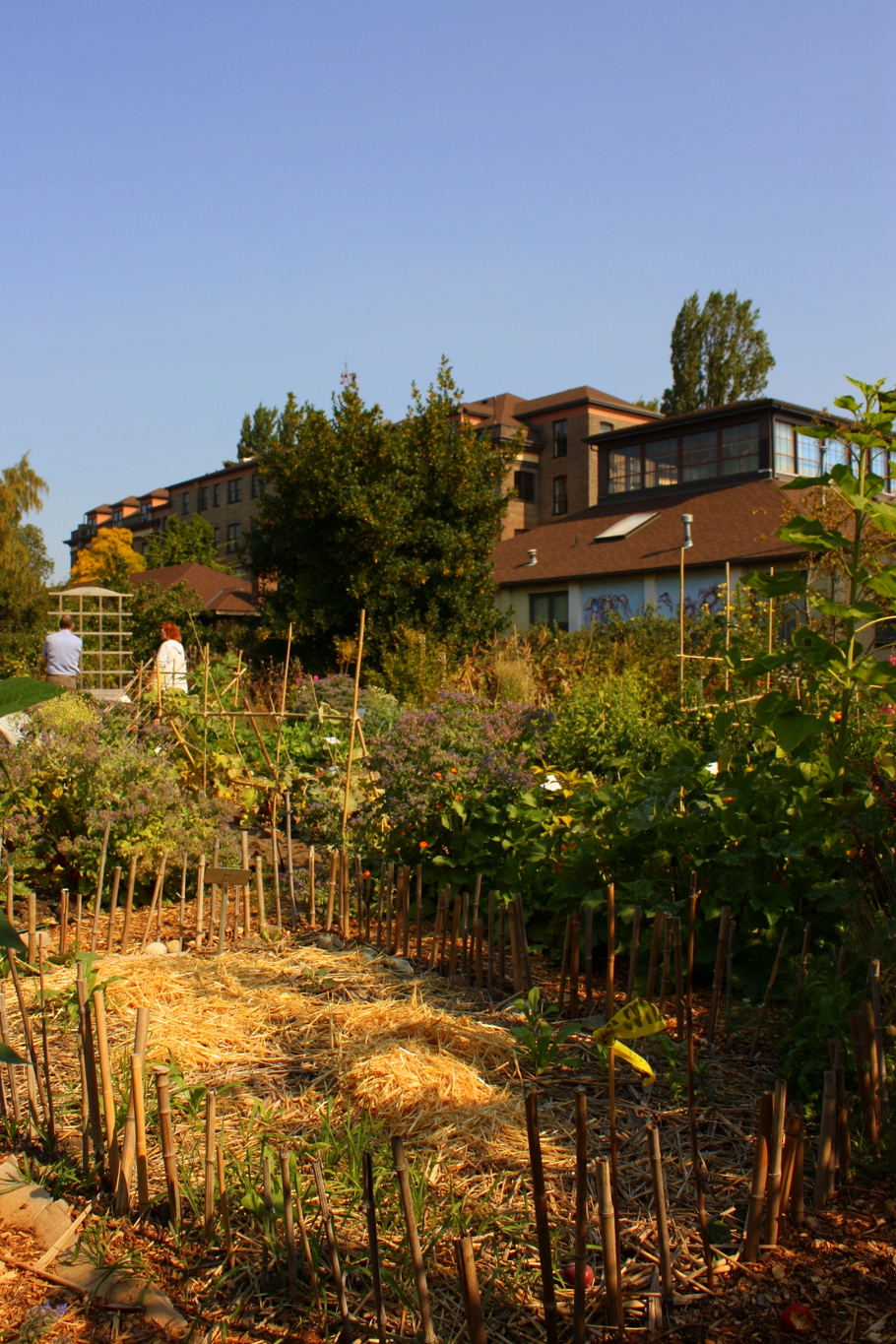 Last stop on the Urban Edibles tour was the Seattle Tilth Demonstration Gardens at the Good Shepherd Center.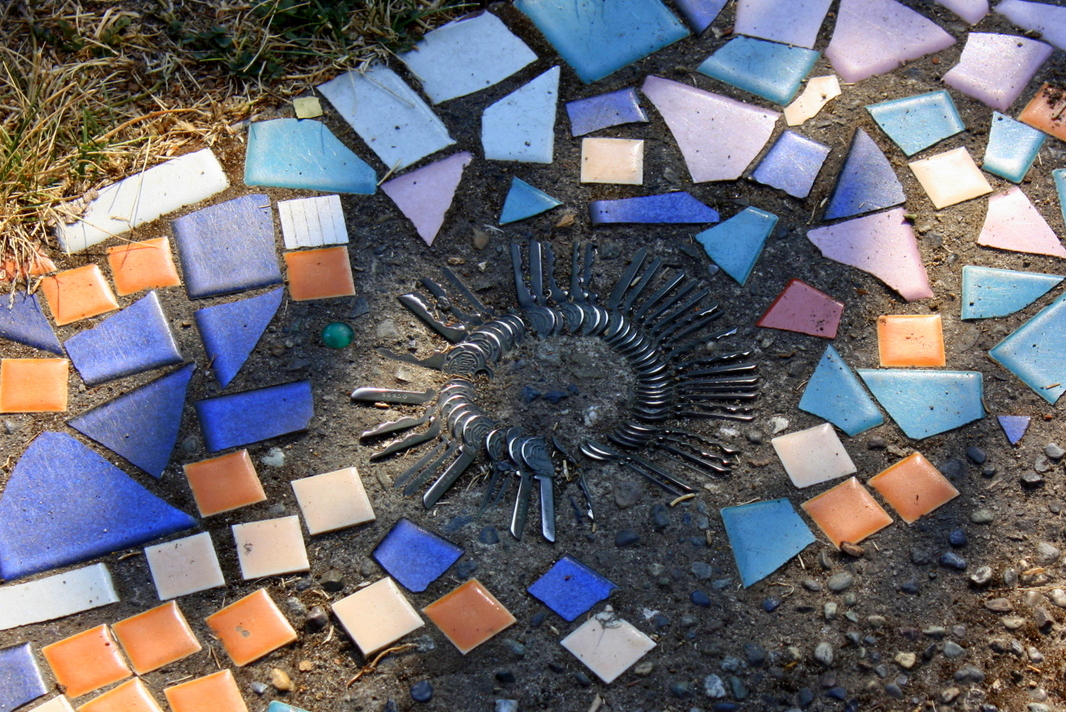 The Good Shepherd Center was, again, former home to nuns and wayward girls. Here is the nuns' key ring preserved in a walkway mosaic.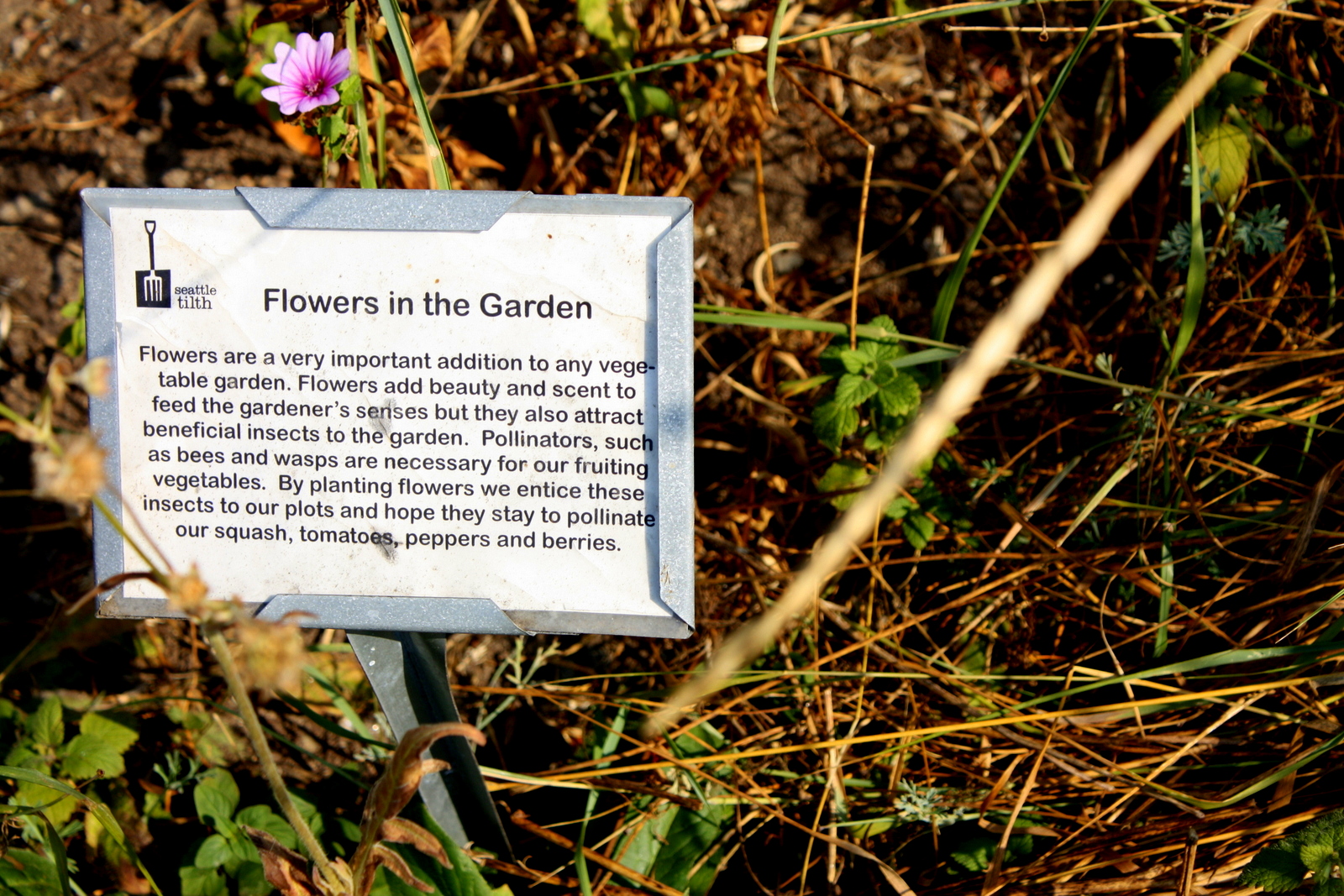 Many people are also familiar with Seattle Tilth, but for those who are not: the organization is focused on organic gardening and urban ecology. The center and demonstration garden are a a hub for many of their offerings. They have classes on organic gardening, animal-keeping (bees, chickens, goats), wild food, composting and more...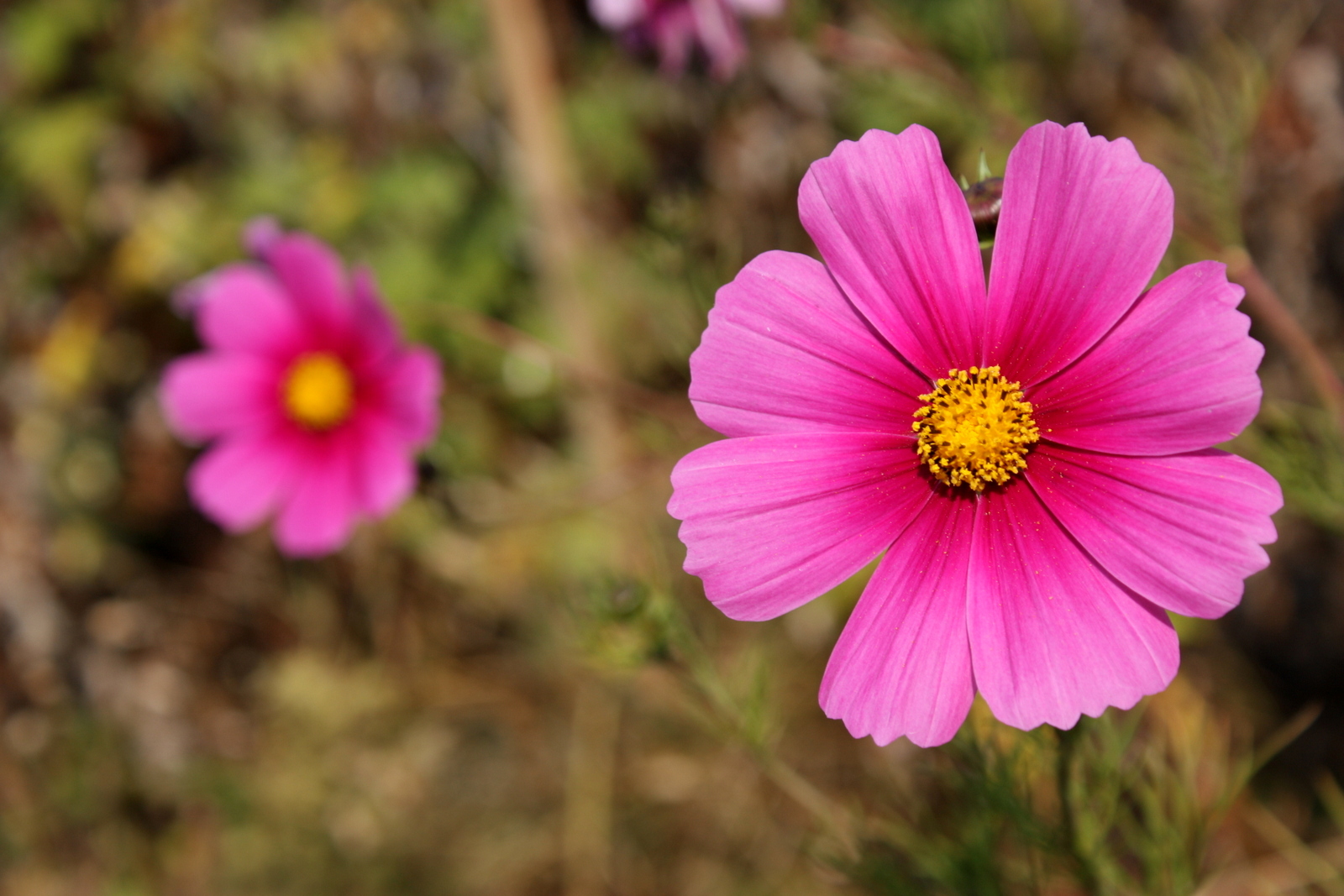 ...offer kids' programs...
...and are an all-around resource to the urban gardener at all levels. Many years they team up with the Seattle Parks Department in the summer to offer free or low-cost (generally $5 max) classes for apartment dwellers or folks with small spaces. The series will offer classes on apartment composting, herb and vegetable gardening in containers, vertical gardening and more.
After our tour, I took one last trip through the P-Patch to snap these beautiful dalhias before heading home.
Thanks to the Seattle Parks Foundation for putting this event together!